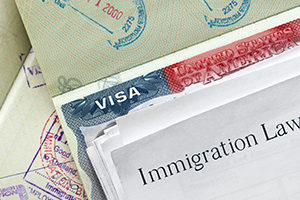 Applicants waiting to file for an adjustment of status to become a lawful permanent resident may use the "Dates for Filing Applications" chart in the October 2018 Visa Bulletin to determine whether it is their turn to apply to US Citizenship and Immigration Services (USCIS).
Each month, the US Department of State (DOS) publishes the Visa Bulletin, which shows immigrant visa availability for applicants waiting to file for permanent residence, either through a US consular post abroad or USCIS here in the US. There are two charts in the Visa Bulletin: "Application Final Action Dates" and "Dates for Filing Applications." The former indicates dates when a final visa may be issued and a green card granted; the latter indicates the earliest dates when applicants may be able to apply.
Generally, the Dates for Filing Applications chart has cutoff dates later than those in the Application Final Action Dates chart. This allows applicants to apply earlier and gives the government time to process the applications.
After the DOS announced the dual chart system in 2015, USCIS announced how it uses the charts.  Under the current procedure, approximately one week after the DOS publishes its monthly Visa Bulletin, USCIS announces on its website which chart is to be used for the upcoming month. Applicants must follow USCIS' announcement in determining when to apply.
Usually, USCIS uses the Application Final Action Dates chart which delayed filings, with the exception of only five times since 2015 when it indicated that the other chart may be used. It is therefore welcome news that USCIS has announced that the following Dates for Filing Applications chart may once again be used in October 2018. What this means is that employment-based applicants with a priority date earlier than the one indicated in the below chart, may now file their applications this month.
Dates for filing for employment-based adjustment of status applications
Employment-based
ALL CHARGEABILITY AREAS (except those listed)
CHINA (mainland born)
EL SALVADOR, GUATEMALA and HONDURAS
INDIA
MEXICO
PHILIPPINES
1st
June 1, 2018
October 1, 2017
June 1, 2018
October 1, 2017
June 1, 2018
June 1, 2018
2nd
C
June 15, 2015
C
May 22, 2009
C
C
3rd
C
August 8, 2015
C
October 1, 2009
C
July 1, 2017
Other Workers
C
June 1, 2008
C
October 1, 2009
C
July 1, 2017
4th
C
C
May 1, 2016
C
C
C
Certain religious workers
C
C
May 1, 2016
C
C
C
5th
Non-regional center
(C5 and T5)
C
October 1, 2014
C
C
C
C
5th
Regional center
(I5 and R5)
C
October 1, 2014
C
C
C
C
US State Department's October 2018 Visa Bulletin shows whose turn it is to immigrate