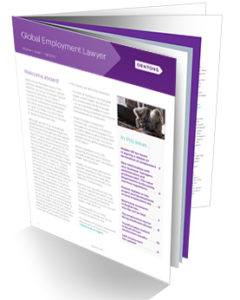 We are proud to offer you the initial issue of Dentons' Global Employment Lawyer.
Whether you are an employer, human resources executive, in-house or outside counsel, mobility professional, or anyone interested in employment and labor issues around the globe, our goal is to keep you informed of trends and developments in the area of global employment law.
In this issue, our lawyers examine:
The task of crafting a non-compete clause under English law which is not unreasonably broad in scope, so as to be enforceable in court,  without risking unwanted commercial consequences for employers;
Likely changes to fixed-term employment contracts in Poland in the wake of a recent European Court of Justice determination finding them inconsistent with EU law, and some updates on key global developments in the region;
Recent legislation in the UAE requiring all employers in Dubai to provide employees with compulsory health care insurance;
Hidden US tax issues arising from new IRS regulations that consider severance payments made after signing a release potentially to be "deferred" compensation;
and many more topics.