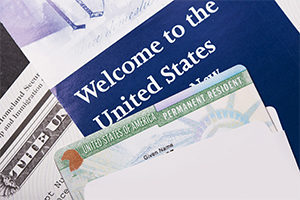 Delivery of alien registration cards (popularly called green cards), employment authorization documents (EADs) and reentry permits will soon require the recipient to present valid photo identification at the time of delivery, with some exceptions.
The US Citizenship and Immigration Services (USCIS) announced on Friday, April 27, 2018, that the agency will soon start using the Signature Confirmation Restricted Delivery service from the US Postal Service. The stated goal is to increase "the security, integrity, and efficiency of document delivery" and provide "better tracking and accuracy of delivery information, improving service to applicants." This new process applies to the delivery of secure documents, such as green cards, EAD cards and reentry permits. USCIS plans to first roll out the new process to secure documents that were returned as non-deliverable, and to subsequently expand use of signature confirmations to all deliveries of secure documents.
In general, applicants will have to present a valid ID to sign their documents upon delivery. USPS offers several alternatives, including designating another person to sign on the applicant's behalf, authorizing the hotel or the apartment complex where the applicant resides to accept delivery, etc. Applicants can also sign up for Informed Delivery, an online service from USPS that provides delivery status notifications and allows for parcels to be held for in-person pickup at a USPS post office location.
This announcement comes less than a month after USCIS indicated that it would destroy such secure documents (green cards, EAD cards and travel booklets) after 60 days if returned as non-deliverable by USPS. These two recent announcements serve as a reminder that all foreign nationals are required to keep USCIS informed of their current address, and to report any change of address within 10 days of relocation by filing Form AR-11, either online or by post.
For more information, please contact your Dentons lawyer and for the full text of the agency's press release can be found at the USCIS website.