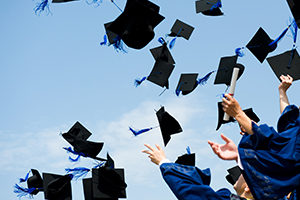 It's April. Graduation is just around the corner. International students who are in F-1 status must consider their post-graduation plans. Now is the time to work with foreign student advisors and the USCIS for those seeking to work and gain practical training after graduation.
Optional Practical Training (OPT) is a period of temporary employment in the US that is directly related to an F-1 student's major area of study. An F-1 student may be authorized 12 months of OPT after completing a degree from a US university. Eligible students must apply within 30 days of the foreign student advisor (known to USCIS as the "designated school official" or "DSO") for OPT into the Student and Exchange Visitor Information System (SEVIS) record system.
The application time window is only open from 90 days before to 60 days after completing the degree. The latest possible start date for the OPT is 60 days after completing the degree. F-1 students must make sure to submit their applications, with application fee, within the time window. OPT will start after USCIS approves the Form I-765 and issues an employment authorization document (EAD).
An employer is not required when OPT is requested, but the student will need to find work soon or OPT will be lost and the student will need to leave the US if he or she is without work for more than 90 days after OPT is granted. F-1 students on OPT must report employment status to their DSOs, who will then update their SEVIS records. The reporting is important because a student with approved OPT but without current employer information in SEVIS is considered unemployed. This can have serious ramifications on the student's future immigration opportunities. We are seeing an increasing number of requests from USCIS regarding OPT employment information when the student later applies for the H-1B work visa that is widely used by F-1 students to work in the US beyond OPT.
OPT can be extended by 24 months for F-1 students who graduate with a bachelor's or higher degree in an eligible science, technology, engineering or mathematics (STEM) field from an SEVP-certified school accredited by an accrediting agency recognized by the US Department of Education. Eligible students must apply before the end of the OPT as indicated on the EAD.
During the STEM OPT period, the permitted unemployment period is 60 days. Unlike the initial OPT, where employer involvement is minimal, STEM OPT requires that the employer enroll in USCIS' E-Verify employment eligibility verification program. Dentons lawyers guide employers on the E-Verify registration process and advise on compliance issues.
Also, the employer must agree to employ the student for a minimum of 20 hours per week and to provide the student with formal training and learning objectives. To fulfill this requirement, the student and the employer must complete and sign Form I-983, which must explain how the training opportunity has a direct relationship to the student's qualifying STEM degree. Dentons lawyers assist employers in developing STEM OPT-compliant training programs.
During the STEM OPT extension period, students must report to their DSOs every six months and supply updated information regarding their employment. If an employer terminates a student's employment or if the student leaves the job, the employer has to report in either situation to the relevant DSO within five business days. STEM OPT students must submit annual self-evaluations and report to their DSOs regarding the progress of their training. Both student and employer must report to the relevant DSO any material changes to the training plan. Reporting and record-keeping are important in case the student applies for H-1B later.
For more information about STEM OPT, please contact your Dentons lawyer and see the USDHS website for additional information.
Subscribe and stay updated
Receive our latest blog posts by email.