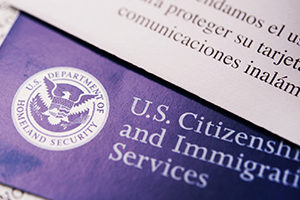 The US Citizenship and Immigration Services (USCIS) issued a revised Form I-9 and E-Verify User Manual. Employers should use the new Form I-9 for all new hires and for re-verification of current employees when their temporary employment authorization expires.
Form I-9 is used for verifying the identity and employment authorization of individuals hired for employment in the United States. All employers must ensure proper completion of Form I-9 for each individual they hire for employment in the United States, citizens and noncitizens included.
USCIS, which is an agency under the US Department of Homeland Security (DHS), operates the E‑Verify program, an Internet-based system that allows any US employer to electronically verify the employment eligibility of a newly hired employee.
E-Verify is a voluntary program. However, employers with federal contracts or subcontracts that contain the Federal Acquisition Regulation (FAR) E-Verify clause are required to enroll in E-Verify as a condition of federal contracting. E-Verify is also a requirement for employers of F-1 foreign students employed under STEM Optional Practical Training. Further, employers in states that have enacted legislation require some or all employers to utilize E-Verify as a condition of business licensing.
The new Form I-9 is available at the USCIS website. The new E-Verify User Manual is available for download here.
Subscribe and stay updated
Receive our latest blog posts by email.