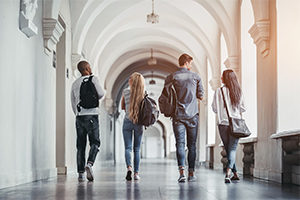 Individuals in the United States on F, J and M visas (including F-2, J-2 and M-2 dependents) who fail to maintain their status will start accruing unlawful presence earlier, potentially spelling trouble for future immigration benefits, according to new US rules.
The US Citizenship and Immigration Services (USCIS) announced on Friday May 11, 2018, that the agency is changing the way it calculates the accrual of unlawful presence for nonimmigrant students and exchange visitors. The changes increase the likelihood that individuals in these two nonimmigrant visa categories will have problems on future immigration benefits.
Non-US citizens can be barred from obtaining visas, entering the US, and obtaining immigration benefits based on extended periods of unlawful presence in the US. If the individual accrues more than 180 days (but less than 1 year), he or she may be barred from re-entry for 3 years. Unlawful presence greater than 1 year can result in a 10-year bar.
The new policy, which becomes effective August 9, 2018, provides that nonimmigrant students and exchange visitors will start accruing unlawful presence either:
(1) the day after the visa holder no longer pursues the course of study or the authorized activity, or the day after they engage in an unauthorized activity; or
(2) the day after they complete the course of study or program, including any authorized practical training plus any authorized grace period.
In addition, visa holders start accruing unlawful presence on:
(3) the day after their I-94 expires; or
(4) the day after an immigration judge orders their deportation or removal of the individual.
Under the previous policy, an F, J or M visa holder would start accruing unlawful presence the day after the Department of Homeland Security (DHS) notified the visa holder that the individual violated his or her nonimmigrant status while adjudicating a request for another immigration benefit. Accruing unlawful presence under this criterion required notification by the USCIS to the visa holder of the violation.
This change is very important. There has always been a clear distinction between violating status and being unlawfully present, with only the latter situation having severe consequences for visa holders. A person could be in violation of status and not be unlawfully present. For instance, a foreign student on an F visa could drop out of school or perform unauthorized work and not accrue unlawful presence.
This situation is very specific to nonimmigrant students and exchange visitors because their Form I-94 and admission stamp usually list duration of status (or D/S) and not a specific date. Typically, F, J and M visa holders can maintain status as long as they remain enrolled or continue to participate in the activity for which they were admitted in the first place. The situation is different from other nonimmigrant visas, such as H-1B and L-1A visas, where unlawful presence generally starts accruing on the day after their visa stay permission on Form I-94 expires.
Under the new rule, even foreign students and exchange visitors who violate status unintentionally and without being aware of it, will start accruing unlawful presence—and may be in for an unpleasant surprise when they later apply for a new visa.
This announcement comes less than a month after USCIS updated its web page regarding the optional practical training (OPT) extension for international students with degrees in science, technology, engineering, and mathematics (STEM). USCIS now specifically provides that the training experience of STEM OPT workers may not be conducted at the place of business or worksite of the employer's clients or customers. Combined with last week's policy change, such an arrangement could cause the visa holder to accrue unlawful presence and later trigger a re-entry ban and visa denial.
We encourage employers who currently employ workers on F, J or M visas or who plan to do so, to carefully review the applicable rules, especially if you intend to subsequently apply for a new visa (e.g., H-1B, EB1, EB2) on their behalf.
For more information, please contact your Dentons lawyer and see the USCIS website for additional information.
Subscribe and stay updated
Receive our latest blog posts by email.